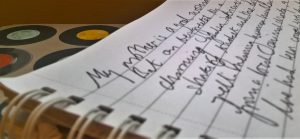 Working with a freelance copywriter 
As an experienced freelance copywriter, each project I work on follows a tailored six-step process.
Each stage is designed to deliver a hassle-free writing service and take away the potential challenges and uncertainties from creating content using a freelance writer.
The whole process is built around meeting your objectives, timely delivery and demonstrating ROI.
Step 1. Establishing your objectives
I take time to understand where you are, how you compare to your competitors or peers, and where you want to be.
Typically, this involves carrying out desk research before an initial meeting with the key stakeholders in your business.
Perhaps you're re-launching a customer magazine? Your website needs a re-think? Your staff communications could be more effective? Or may be you're trying to kick-start or implement a re-brand?
Whatever your objectives for choosing to work with a freelance writer, I'll capture and agree them at this early stage. This establishes a shared understanding of the project and saves you time and effort at every point from here on in.
Where appropriate, I'll draw up an outline strategy document. Depending on the project and the channel, I'll also draft an editorial strategy document, features list, or wire frame for your approval as appropriate.
At this stage, we'll also agree the sign-off loop and the process around review and amends.
We'll also set out how many rounds of amends we'll be working to. This could be one simple review loop in Word. Or it could be multiple rounds at different stages of the design, build or layout process.
If you're looking a freelance writer to dovetail with the work of an internal team, critical path or delivery plan, let's work that way.
At this stage we'll also discuss your evaluation criteria. What does good look like? More traffic? Greater conversions? Stronger brand positioning?
Let's build your aims into every piece of content and set some metrics for evaluation after I've delivered.
Step 2. Working with your brand
Whether you're a larger organisation with a comprehensive set of brand and editorial guidelines, or a company that's still defining their brand, I'll work within your framework.
Perhaps you need some specialist help developing your brand's tone of voice and how this is expressed. We can talk about how I can tie this down as part of the writing project.
Give me what you have, tell me what you need when it comes to your brand, and let's make sure this is plugged in early.
Step 3. Costing your freelance writing needs
I work on a day rate or project fee basis, depending on the nature of the work and likely frequency.
My day rate depends in part on how I will be sourcing the base content. Am I re-purposing existing copy, starting from scratch, conducting interviews to get the insights you need? Tying this down and agreeing my costs for your project based on full information removes the uncertainty you may have experienced working with alternative freelance copywriters.
My rates reflect the fact you've chosen to avoid the 'copy farm' or discounted agency route. Writers may be paid pennies a word, and it's likely the content churned out reflects this.
I'm a freelance writer with many years as national journalist under their belt and with high-level professional writing experience in multiple sectors and channels.
I'm by no means the cheapest, but I'm certainly not the most expensive freelance writer available. My services represent value for money by delivering the high quality writing you need, when you need it.
Find out more about my background.
Step 4. Developing and delivering draft content
At this stage we get to the bulk of the work: I crack on with writing your content.
As I work, l continuously check back against the objectives we established and the appropriate brand guidelines. I'll keep you updated without bombarding you with unnecessary emails. My aim is to reassure and make your life as easy as possible throughout the process.
This might mean anything from providing daily status updates, working closely with your design or digital teams, walking a nervous director through a draft piece, or sourcing imagery.
When it comes to creating content for you, I'll write and re-write until I'm happy and I know you will be.
I'll proof, proof and proof again, then proof a final time before sending (and before I hit 'send', there's every chance I'll proof a further five times). I think paranoia is a good quality in a freelance writer – if you're picking up mistakes it wastes your time and damages your confidence.
I enjoy looking at content creatively and conceptually. I specialise in coming up with editorial ideas and angles on your business that resonate and engage. But I also really care about the detail and recognise this is likely to be an important reason behind choosing to work with a professional copywriter.
Step 5. Review, amends and sign off
At the very start of the process, we've agreed how review, amends and sign off will work.
Each client is different, with diverse business needs driving both the means and methods of reviewing and feeding back.
I'll track and check off amends. You shouldn't have to tell your copywriter to change the same thing twice.
I can deal with repeated review loops and resolving conflicting comments from different stakeholders within your organisation. Inexperienced freelance writers may lose focus when this happens. I see these situations as a realistic part of the process, not a force for derailing delivery.
I'll be responsive and flexible should the brief need to change to fit your evolving business needs. These things happen.
I can provide support getting internal sign off at different levels, from your compliance function, marketing teams and senior executives, as required.
Step 6. Evaluation and review
Once I've delivered, I'll offer you an evaluation of the overall copywriting service. This can be as detailed or informal as you require.
I could produce a short report on how my contribution met your evaluation criteria. I may attend an internal 'mop-up' meeting after delivery. Maybe you'd prefer a detailed one-on-one over the phone on what worked well and where we might make the process even better next time?
Whatever you choose, the final review and evaluation stage is not costed into the price of my time on a project and comes at no additional cost.
Knowing how far I've met your needs is a vital part of my business. I strive to maintain the highest standards as a freelance copywriter delivering at the quality end of the market.
Discuss your freelance writing project. Drop me a line at helen@helenmonkstakhar.co.uk to arrange an initial chat.